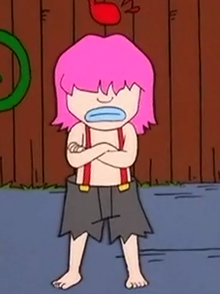 Zedd is one of the kindergarteners at Third Street School. In "The Break-Up" Spinelli ordered him to get her lunch from the school cafeteria. In "Wild Child" he was Mikey's partner for Pee Wee Pals.
Personality
Zedd is very quiet and after "Wild Child" he is shown to like poetry and eat Winger Dingers just like Mikey.
Appearance
He has long pink hair, which covers his eyes, blue paint around his lips and an overall with red strings and grey pants and walks around barefoot.
Ad blocker interference detected!
Wikia is a free-to-use site that makes money from advertising. We have a modified experience for viewers using ad blockers

Wikia is not accessible if you've made further modifications. Remove the custom ad blocker rule(s) and the page will load as expected.