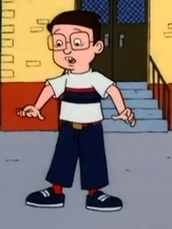 Timmy Milton is a fourth grader in Miss Grotke's class. His only speaking role was in the episodes "The Legend of Big Kid" and "The Bet", where he was voiced by Kath Soucie and Ryan O'Donohue, respectively. He appears as a background character in other episodes. He wears a striped shirt and has glasses.
Ad blocker interference detected!
Wikia is a free-to-use site that makes money from advertising. We have a modified experience for viewers using ad blockers

Wikia is not accessible if you've made further modifications. Remove the custom ad blocker rule(s) and the page will load as expected.