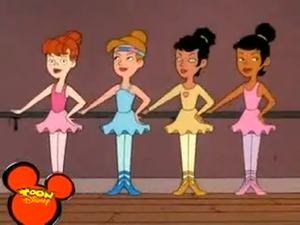 The Megans are four girls who attend Mademoiselle Povlova's Salon of Independent Movement. They appeared in the episode "Dance Lessons." Like the Ashleys, they are very snobby.
Trivia
Many fans have pointed out that The Megans bear a striking resemblance to The Ashleys, which has led some fans to believe that they are the 98th Street School-counterparts or relatives of the Ashleys - or both, perhaps.
Their catchphrase is "Ludicrous."
Gallery