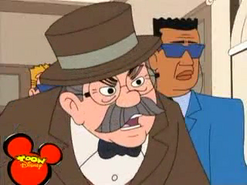 Thaddeus T. Third V is the richest man in the Recess Gang's home city. His grandfather, Thaddeus T. Third III, is the namesake for Third Street School. He bears a strong resemblance to American financier and businessman, J. P. Morgan. He is voiced by Ed Asner.
Appearance
He is often smartly dressed: sporting a brown three-piece suit with a bowler hat with a grey rim. He wears glasses, a bow-tie and has a mustache. He bears a resemblance to his grandfather, Thaddeus T. Third III.
Personality
In both of the episodes "The Biggest Trouble Ever" and "The C Note," it is implied that he is a kind and good-hearted elderly man, who happens to be short at times.
History
He is referred to in several episodes of the series; however, he makes prominent appearances in the episodes "The Biggest Trouble Ever" and "The C Note."
In the former episode, he appeared in the court at the end of episode to give the gang a character reference saying they were just kids, they didn't mean to destroy the statue and that many others - some amongst the court - had rode and attempted to bring the statue down before.
In the latter episode, it is revealed that he leaves one-hundred dollar notes around the Unnamed City. He does this to award those who bring him back the notes with even bigger prizes.
Gallery
Ad blocker interference detected!
Wikia is a free-to-use site that makes money from advertising. We have a modified experience for viewers using ad blockers

Wikia is not accessible if you've made further modifications. Remove the custom ad blocker rule(s) and the page will load as expected.