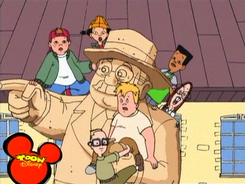 Thaddeus T. Third III, often referred to as "Chad" or "Ol' Chad," was the man of whom Third Street and subsequent school was named after. He has never been featured in the program "Recess" in any kind of historical flash back. His statue was featured in the episode "The Biggest Trouble Ever" when it was broken by the gang as the workmen failed to secure it during renovation work.
Family
Presumably, his father and his father before him were also called Thaddeus. We can also deduce that he named his son Thaddeus. His grandson is Thaddeus T. Third V.
Ad blocker interference detected!
Wikia is a free-to-use site that makes money from advertising. We have a modified experience for viewers using ad blockers

Wikia is not accessible if you've made further modifications. Remove the custom ad blocker rule(s) and the page will load as expected.