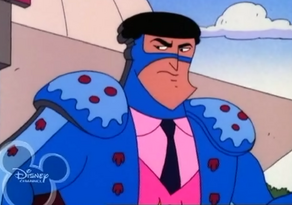 Señor Fusion is a superman from the comic of the same name. He is a superhero and it's understood that he is completely fictional.
It is understood that he is loved by all the kids of Third Street and by Principal Prickly, who became a fan at the same age of the kids.
His comics are traded, amongst others, at Third Street School; the comics are traded under a system of barter (under which, their value could go up or down versus items such as Winger Dingers and US Dollars.)
Along with the comic book series, a feature-length movie on Señor Fusion was shown in the episode "The First Picture Show;" with the whole school (including the faculty but excluding Lawson) seeing it. This episode was the first one (1A) in the fourth season, which was the largest with 23 (split into 46.)
Personality and Appearance
It is understood that he homages mainstream superheroes like Superman, Batman, and Spiderman and that he is like these in the sense that he is both omnibenevolent and omnipotent.
He sports the stereotypical superhero look: outfit's very animated and colorful, has a mask, and has forgettable catchphrases. The outfit is, however, a matador outfit and mask; T.J. has a huge collection of his comics.
History

In many episodes, like in "
Hustler's Apprentice
," "
Bad Hair Day
," and "
Chez Vince
," the students use
Señor Fusion
comics to bribe or trade.
Señor Fusion is voiced by Frank Welker.
Señor Fusion was created by Larry 'Lupin' Rogan.
Trivia
He was originally dubbed as Señor Electricity; however, this was changed to Señor Fusion at an unknown prior to the events in Recess and after the creator, Larry Rogan, retired from the comic book business.
Ad blocker interference detected!
Wikia is a free-to-use site that makes money from advertising. We have a modified experience for viewers using ad blockers

Wikia is not accessible if you've made further modifications. Remove the custom ad blocker rule(s) and the page will load as expected.