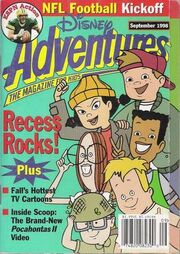 In the late 1990s until the early 2000s, comics based on
Recess
appeared in the now-defunct Disney Adventures magazine, starting with the December 1997 issue. Most of these were translated into other languages for their
Disney Adventures
translations.
Because these comics were never reprinted, the Recess comics are all very hard to find.
Comics
Gus's Journal (December 1997) (Note- the comic was later digitalized and put onto the original Recess website in the `90s)
The Long Hot Recess (September 1998) (Note- This edition of Disney Adventures was a Recess special issue)
Time Out for Sugar (February 1999)
New Shoes Blues (May 1999)
The Trouble With Shorts (March 2001) (Notes- Printed with the Recess: School's Out banner. Was also included as an interactive comic on the DVD of Recess: School's Out)
Ad blocker interference detected!
Wikia is a free-to-use site that makes money from advertising. We have a modified experience for viewers using ad blockers

Wikia is not accessible if you've made further modifications. Remove the custom ad blocker rule(s) and the page will load as expected.