Prickly Is Leaving[1] is the eleventh episode of the fourth season of Recess, which was first broadcast on October 3rd, 1999.
Summary
Principal Prickly gets his wish of finally being a middle school principal; however, his replacements, an evil man named Dr. Slicer and his assistant Gilda, are even worse. This causes celebrations to be cut short.
Plot
During one of the day's recesses, Prickly gets a call: Superintendent Skinner has a middle school principal position open at Spiro T. Agnew as the previous principal was "fired." Prickly has an open application for positions such like this and hence is offered the job; Prickly is overjoyed - but not as much as the students who welcome a break from him. However, Miss Finster is not happy, for she and Prickly have history together.
After discussing their plans on what they'd do after Prickly left, Menlo - who was with Miss Lemon and Prickly outside his office - responded to the gang. He was not initially phased - until he read a fax that had come in, however. That's because it read that Prickly's replacement is an even worse man known only as "Slicer."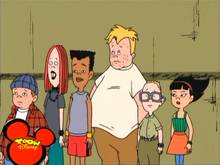 After Slicer's visit the next day, T.J. decides that he and his gang must do everything they can to stop him becoming Principal. Finster, however, organises a school-wide goodbye celebration. The Gang, after several attempts, fails in their quest, but T.J. gives a heartwarming speech to Prickly just before he leaves. Prickly is touched, but Slicer is not amused, and he makes T.J. wear a paper hat that says "Capt. Sappy" (earlier Slicer made T.J. wear a hat that said "Funny Boy".)
Dr. Slicer immediately appoints his assistant, Gilda, to Miss Finster's position, making her Gilda's assistant. That he was to tear down the jungle gym to make room for a guard tower and that he was to restore the cannon in the front of the school operational. However, Prickly returns and states that the Superintendent wouldn't "cough-up" enough money for the position at Agnew, and decides to stay at Third Street until "they make a better offer".
Goofs
Trivia
Cast
References
External Links
Prickly Is Leaving on Internet Movie Database
Ad blocker interference detected!
Wikia is a free-to-use site that makes money from advertising. We have a modified experience for viewers using ad blockers

Wikia is not accessible if you've made further modifications. Remove the custom ad blocker rule(s) and the page will load as expected.