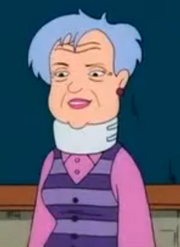 Mrs. Klemperer is the Kindergarten teacher at Third Street Elementary School. She first appears in the episode Wild Child. Throughout the series she is only shown without a neckbrace once, teaching kindergarteners with real clothes on and acting normal, in the episode 'Mikey's Pants.' One can assume that the kindergarteners caused her neck injury.
Ad blocker interference detected!
Wikia is a free-to-use site that makes money from advertising. We have a modified experience for viewers using ad blockers

Wikia is not accessible if you've made further modifications. Remove the custom ad blocker rule(s) and the page will load as expected.