Miss Grotke

Name

Miss Alordayne Grotke

Occupation

Teacher

Nationality

Indian American

Friends

Voiced by

Allyce Beasley (1997-2001)

Age

37
Miss Grotke is the teacher of the fourth graders at Third Street. Warm and kind but somewhat eccentric, Ms. Grotke is popular with her students.
She is known to teaching with an "earthy" sort of manner. In "The Substitute", T.J. makes a speech about her saying how she had helped them "... from healing our roots to helping us with our times tables!".
She is also shown to be a karate master in School's Out.
She believes that T.J. and the gang are high spirited children who are not rotten.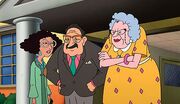 Trivia
It seems that Miss Grotke never shaves her legs.
In Operation Field Trip, the codename that Miss Grotke uses to communicate with the dispatcher is "Earth Mama".
Quotes:
"(Insert time here) o'clock already?"