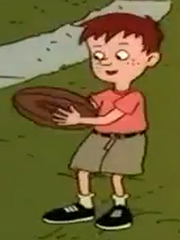 Like
Stinky Peterson
, little Jimmy Cratner also runs into mysterious mishaps like getting lost in "The Yard Of No Return" and getting abducted by aliens. He is generally a figure who is heard of but not seen: the subject many kids elaborate, exaggerate or tell fantastic stories/myths about things that had happened at
Third Street
. He is seen dropped off by aliens at Third Street in "
The Experiment
". Jimmy also mysteriously disappeared once mentioned in "
The Lost Ball
". Kids think he was abducted by aliens or sucked into a different dimension. Dottie, the house owner, reveals explicitly that nothing happened to him. The only time he speaks is in "The Experiment". He is voiced by Justin Jon Ross.