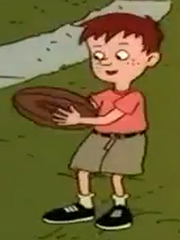 Like
Stinky Peterson
, little Jimmy Cratner also runs into mysterious mishaps like getting lost in "The Yard Of No Return" and getting abducted by aliens. He is generally a figure who is heard of but not seen: the subject many kids elaborate, exaggerate or tell fantastic stories/myths about things that had happened at
Third Street
. He is seen dropped off by aliens at Third Street in "
The Experiment
". Jimmy also mysteriously disappeared once mentioned in "
The Lost Ball
". Kids think he was abducted by aliens or sucked into a different dimension. Dottie, the house owner, reveals explicitly that nothing happened to him. The only time he speaks is in "The Experiment". He is voiced by Justin Jon Ross.
Ad blocker interference detected!
Wikia is a free-to-use site that makes money from advertising. We have a modified experience for viewers using ad blockers

Wikia is not accessible if you've made further modifications. Remove the custom ad blocker rule(s) and the page will load as expected.