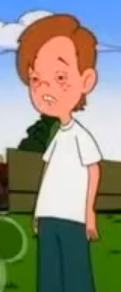 Lazy Kid is a student who is always tired and sleepy. He hangs out behind the school with his four friends: Skeens, Mundy, Sue Bob Murphy, and Kurst The Worst.
He's short, sports blonde hair, freckles on his face, wears a white shirt, dark green pants and red sneakers and he talks slowly.
Trivia
Lazy Kid is also mentally "slow" because he usually lags behind in what people are talking about.