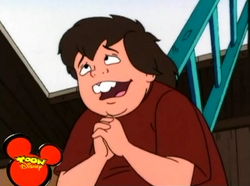 Koreo is a fifth grader and one of Lawson's friends. He is a bully and jock. He is big and fat, has black hair and wears a red/Brown shirt. He likes grilled cheese sandwiches.
He does not appear in as many episodes as Lawson's other friends and does not usually make cameos or appear on his own without Lawson, unlike Jocko, Buster, Chucko and Cheay.
Ad blocker interference detected!
Wikia is a free-to-use site that makes money from advertising. We have a modified experience for viewers using ad blockers

Wikia is not accessible if you've made further modifications. Remove the custom ad blocker rule(s) and the page will load as expected.