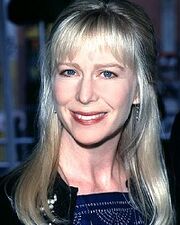 Kath Soucie
is an American voice actress, who has done many roles over the years. Some of her notable roles include Kanga in
Winnie the Pooh
,  Phil, Lil and Betty Deville on
Rugrats
and
All Grown Up
, Miriam Pataki on
Hey Arnold!,
Blake Gripley on
As Told By Ginger
, Princess Sally Acorn on
Sonic the Hedgehog
, Cubert Farnsworth on
Futurama
, Cadpig, Rolly, and Anita Dearly on
101 Dalmatians: The Series
, Fifi LaFume from
Tiny Toon Adventures
, Winifred From
Jungle Cubs,
 and Lola Bunny from
Space Jam
among many other voices in film and television.
She has done many voices on Recess, most notably, Butch. 
Characters voiced
Ad blocker interference detected!
Wikia is a free-to-use site that makes money from advertising. We have a modified experience for viewers using ad blockers

Wikia is not accessible if you've made further modifications. Remove the custom ad blocker rule(s) and the page will load as expected.