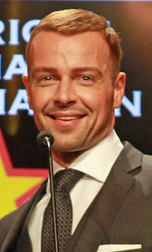 Joey Lawrence is an American actor and voice actor. He voiced Mr. Dude in Recess. He is the oldest of the three Lawrence brothers, Matthew and Andrew (the second voice actor of T.J.).
He voiced Franklin Dudikoff in the episode "The Dude", while his younger brother, Andrew, was the voice of T.J. at the time.
Other credits include Joey on Gimme a Break, Oliver in the Disney animated movie Oliver and Company, Joey Russo on Blossom, Dirk Brock in two episodes of The Emperor's New School, and Joe Roman on Brotherly Love which also features his other brothers Matthew and Andrew.
He also had a singing career in the 90s, two of his hits included Nothin' My Love Can't Fix in 1993 and Never Gonna Change My Mind in 1997.
Ad blocker interference detected!
Wikia is a free-to-use site that makes money from advertising. We have a modified experience for viewers using ad blockers

Wikia is not accessible if you've made further modifications. Remove the custom ad blocker rule(s) and the page will load as expected.