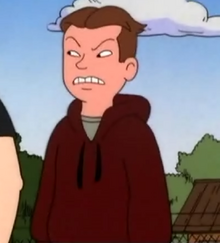 Jocko is one of Lawson's friends. He is in 5th (later 6th) grade at Third Street School and is also a bully and a jock. He was voiced by E.G. Daily.
Appearance
Jock has brown hair and wears a dark red sweatshirt and blue shorts. In the episode "Soccer Boy," it is revealed that he went to soccer camp and has a talent for headers.
Trivia
His name is a pun of the word "jock".