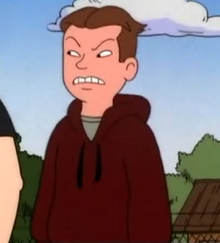 Jocko is one of Lawson's friends. He is in fifth grade at Third Street School and is also a bully and a jock. He was voiced by E.G. Daily.
Appearance
He has brown hair and wears a dark red sweatshirt and blue shorts. In the episode "Soccer Boy," it is revealed that he went to soccer camp and has a talent for headers.
Trivia
His name is a pun of the word "jock".
Ad blocker interference detected!
Wikia is a free-to-use site that makes money from advertising. We have a modified experience for viewers using ad blockers

Wikia is not accessible if you've made further modifications. Remove the custom ad blocker rule(s) and the page will load as expected.