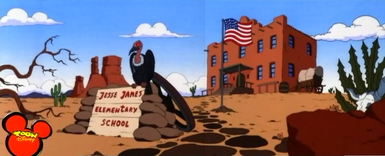 Jesse James Elementary School is an elementary school somewhere in the West. Some say it was where Dodgeball was invented. Gus used to be a student before moving away. He also used to be the fastest dodgeballer in the school and the West.
Its name suggests that it is a reference to Jesse James, a notorious Old-West outlaw and brother of Frank James, with whom he was involved.
Ad blocker interference detected!
Wikia is a free-to-use site that makes money from advertising. We have a modified experience for viewers using ad blockers

Wikia is not accessible if you've made further modifications. Remove the custom ad blocker rule(s) and the page will load as expected.