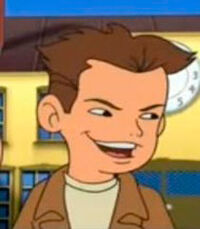 Francis "The Hustler Kid"
is a student of
Third Street School
who acts as a hustler during
Recess
. He is able to offer the students of the school a wide range of products such as trivial toys and food, often discreetly. Sometimes, however, the items he sells are actually a scam. Despite this, he follows a strict code of morals, such as refusing to sell items that would get other kids in serious trouble, such as counterfeit hall passes or a teacher's answer book.Gus was selling these while getting a bit carried away with being a Hustler Kid. He is seen at the beginning of
Recess: School's Out
, on the last day of the school year, trying to sell maps to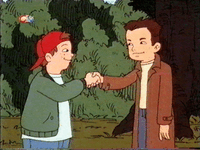 teachers of
Third Street School
homes. Hustler Kid is one of the students in Miss Grotke's class, and it is revealed in
Hustler's Apprentice
that his real name is Francis. He's voiced by Michael Schulman.