How much would you rate "Good Luck Charm" out of 5?
Good Luck Charm is the nineteenth episode of the fourth season of Recess which was first broadcast on November 19, 1999.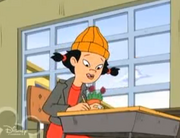 Summary
Spinelli borrows Vince's lucky marble to pass a math test on the day Vince needs it most.
Goofs
Coloring error/animation error: When Spinelli is taking her math test, her legs are bare.
Coloring error: After Ashley A. finishes jump-roping, her sleeves are pink instead of grey.
Animation error: When Spinelli's jump-roping with the Ashleys, Ashley B. and Ashley Q.'s faces switch from being closed-mouthed to open-mouthed in every shot.
Trivia
This episode was cut from the Italian dub.
Cast
T.J. Detweiler - Andrew Lawrence
Vince LaSalle - Rickey D'Shon Collins
Ashley Spinelli - Pamela Segall-Adlon
Gretchen Grundler - Ashley Johnson
Mikey Blumberg - Jason Davis
Gus Griswald - Courtland Mead
Miss Grotke - Allyce Beasley
Ashley Armbruster - Anndi McAfee
Hustler Kid - Michael Shulman
Earwin Lawson - Erik von Detten
Coach Kloogey - Paul Wilson
Ad blocker interference detected!
Wikia is a free-to-use site that makes money from advertising. We have a modified experience for viewers using ad blockers

Wikia is not accessible if you've made further modifications. Remove the custom ad blocker rule(s) and the page will load as expected.