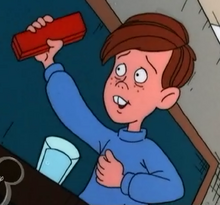 George Stemple is a boy who wears a blue shirt, brown pants, and has brown hair. He is the boy who Gelman previously bullied, before Gus became Gelman's new victim and punching bag. Stemple, however, left the school because he moved to a new house. Oddly, after moving and leaving the school, he still made cameos in many other episodes. In some episodes his skin color changes from white to black and hair changes from brown to blonde and his shirt from blue to red.
Ad blocker interference detected!
Wikia is a free-to-use site that makes money from advertising. We have a modified experience for viewers using ad blockers

Wikia is not accessible if you've made further modifications. Remove the custom ad blocker rule(s) and the page will load as expected.