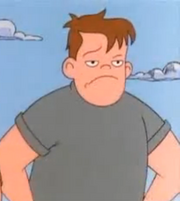 Cy Kowalski is Chucko's older brother in the 8th grade and he is a bigger bully than his brother. Cy only appeared in the episode "Big Brother Chad". He was voiced by Justin Shenkarow. Chad, Vince's older brother, helps him with his math homework.
Ad blocker interference detected!
Wikia is a free-to-use site that makes money from advertising. We have a modified experience for viewers using ad blockers

Wikia is not accessible if you've made further modifications. Remove the custom ad blocker rule(s) and the page will load as expected.