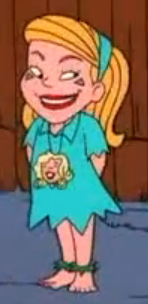 Cindy is a Kindergartener at Third Street School. She has long, blonde hair, wears a turquoise dress and hairband, and has a severed dolly's head as a necklace. She is a good runner, has a smiley-disposition, and has a tendency to get distracted. She is voiced by Kath Soucie.
She is a recurring character in the Recess series, making appearances few and far between. Moreover, she makes two major appearances in the series: the first in the episode "Wild Child" and the last in the episode "Kindergarten Derby." She, collectively with the rest of the Kindergartners, has formed the backdrop for much of the playground-driven story-lines. The Kindergartners repeat throughout the series and movie.
In the former episode, she is shown to be kind and that she appreciates flowers - until her mentor Spinelli, teaches her to arm-wrestle and be tough. In the latter episode, the gang (excluding Mikey) select her as their entry into the Derby. She is very quick and is a top contender in it - until she's distracted, that is.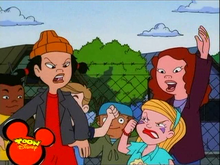 Trivia
In the episode "Mundy, Mundy," she was saved from a rogue ball by Mundy. This lead to him becoming quite popular, much to his chagrin, however.