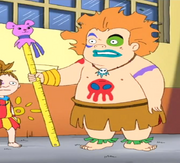 Chief Stinky
is the newest kindergartener. He took
Captain Sticky
's place as the leader of the kindergarteners. Then
Hector
defeats him and became the new leader of the kindergarteners. Chief Stinky made his only appearance in the movie
Recess: All Growed Down
. He was voiced by
E.G. Daily
.
Appearance
He has red hair and is bigger than the other kindergarteners and carries a yard stick with a teddy bear's head tied to it. His lips are blue and one of his eyes is green. He has a red alien or jellyfish or skull with blue eyes.
Ad blocker interference detected!
Wikia is a free-to-use site that makes money from advertising. We have a modified experience for viewers using ad blockers

Wikia is not accessible if you've made further modifications. Remove the custom ad blocker rule(s) and the page will load as expected.